License
License to use Levidio products
Company License
The company license covers the need to use Levidio products on teams in a particular company. The limit of team numbers that use Levidio products in a company is 2 to 99 users.
Getting a company license is very easy. Users must buy 1 levidio product at the price listed on the levidio sales page, a complete list of levidio products can be seen at https://levidio.com/product.
After that, as a business owner, you will get an additional 20% discount for purchasing the 2nd to 99th Levidio products that will be used by your team
---
Benefits
Companies are not required to buy the same levidio products. So, an additional 20% discount can be used to buy other levidio versions / not necessarily the same levidio version.
As it is known that levidio can only be used by 1 user and cannot be transferred for any reason. This includes the use of levidio on a company license. So, if a company has 5 teams that use levidio, the company is required to buy levidio for each user. However, with a company license, you can get a 20% discount for the 2nd user to the 99th user in one company.
---
The illustrations are shown as follow
Company A has 5 designer teams who need levidio. Company A has decided to buy Levidio Animatoon, The Feed, Youtuber, Motion Pro and Presentation products. To get a special discount for company license, company A is required to buy 1 levidio product at the highest price, namely the levidio presentation of $67 (price after 50% discount).
After that company A can buy levidio Animatoon, Motion Pro, The Feed, and Youtuber at an additional discount price of 20%.
---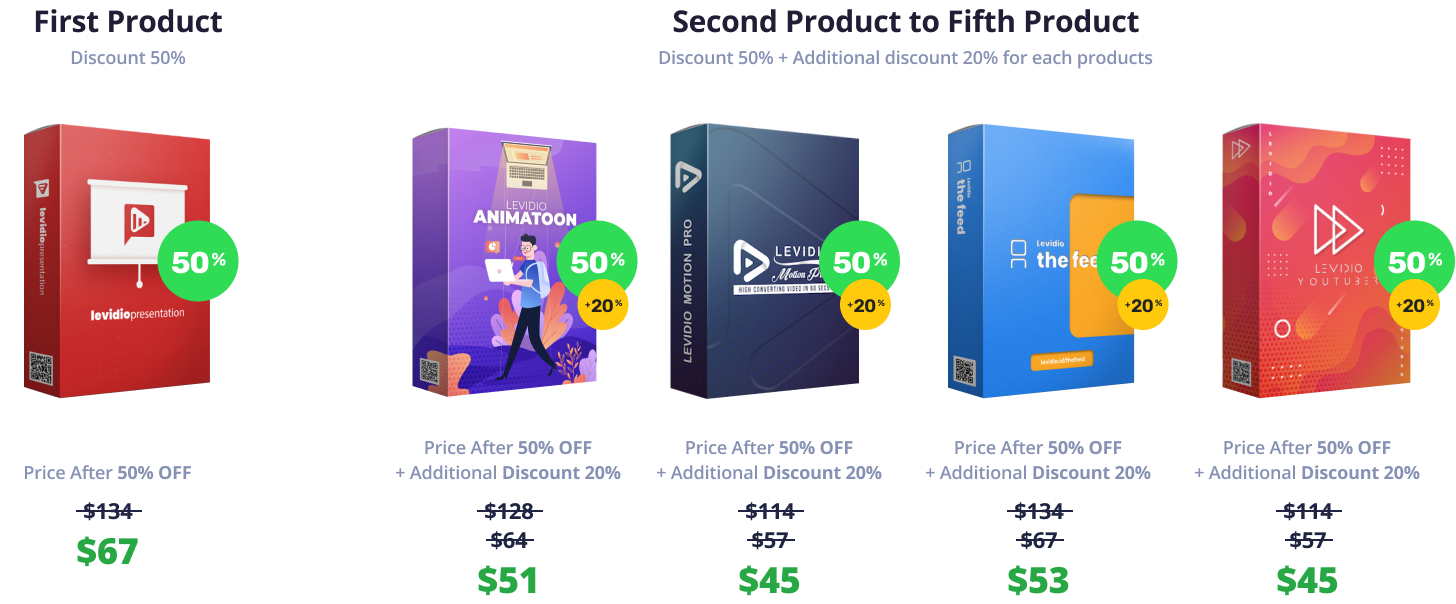 ---
Terms & Conditions
The terms and conditions for using levidio with a team license are as follows:
The use of levidio is only for company purposes, not for the personal benefit of individuals / teams working in the company

One levidio product can only be used for one person and may not be transferred. Meanwhile, purchases of levidio with different series will still get a special discount as long as the purchase is made in 1 invoice

The product use license is a commercial license like the levidio product license in general

Limitation on the use of Levidio's work is only for digital media publications and not for broadcasting such as TV, billboards, or the appearance of levidio works in companies with many branches spread across various cities

The use of levidio for subsidiary companies is permitted. Suppose the use of Levidio for advertising a minimarket in 1 branch in the city of Jember is allowed.However, it is not permissible if Levidio's work is broadcast in all of the minimarket networks in every city in Indonesia

For massive broadcasting in all branches spread across various cities, the company needs a broadcast license from Levidio
---
What if one user stops working or resigned ?
Licenses are non-transferable. The company can buy one more levidio for new people. The levidio validity period is during the period the employee works at the company
---
To get a license, you can go directly to the license page. To purchase a Company License, please click here.
If you have any questions, please contact our support team here.
Back to top